WELCOME
Welcome To
D.A.N
DPauls Affiliates Network
DPauls Travel & Tours Ltd's Technology Division now offers you complete
Affiliate solutions for launching your own travel portal not only by providing
the requisite technology, but also the tools to start selling from Day One.

A Platform Created By Travel professionals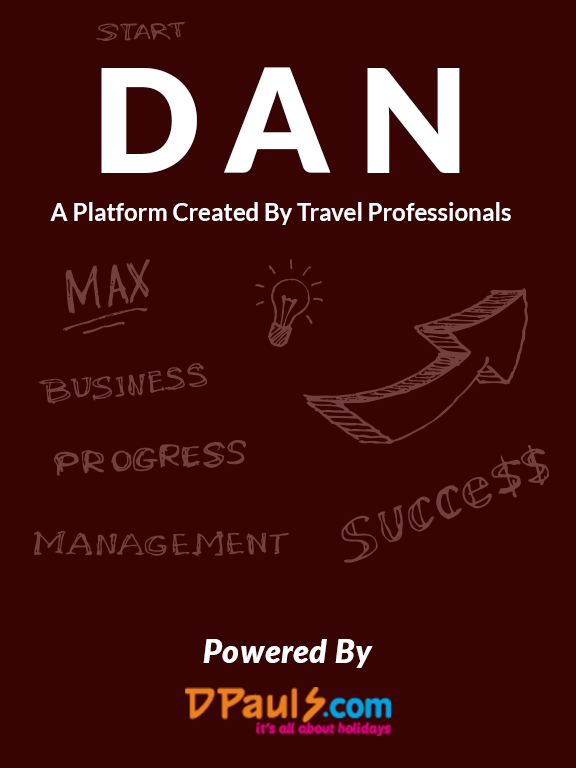 From The Company That Has Been Redefining Travel Since 1992,
Comes a Unique Business Opportunity! A Nominal Investment, And A Computer With An Internet Connection Is All That Is Required !
D Pauls Travel & Tours Ltd's Technology Division
Now offers you complete Affiliate solutions for launching your own travel portal not only by providing the requisite technology, but also the tools to start selling from Day One.
Become a DAN – DPauls Affiliates Network
Hello. Please allow us to introduce DAN, the DPauls Affiliates Network. DAN is much more than just a name for a product. DAN is the personification of our passion for the Tourism & Travel industry. It is a project shaped by our experience of over two decades in the industry. DAN is a program, which will help us to enable you to become an online travel company, with the same resources that are available to us. The wealth of industry experience that we have acquired over two decades is embodied in DAN, which can be yours in a matter of mere days.
Effectively, what this translates into is that DAN can empower you to become a fully functional online travel company, minus the associated hassles of learning the ropes, because we have already been through those phases for you. When you deal with a pure Travel Technology company, they will offer you the basic technology solutions. Some of the options that you may be offered by them include a Whitelabel Solution, or an API that integrates your website with airline & hotel aggregators etc, or perhaps a set of APIs enabling you to interact with several different suppliers. One of the other possible solutions that may be offered to you is a SAAS – Software as a service.
To the uninitiated, this can be extremely confusing and daunting, not to mention expensive as well. We know this, because we too have been through it all. While exploring our options when we set out to become and Online Travel Company, we have met with several technology providers that have offered us all of these options. Yet, not even one of them was able to offer a seamless integrated system that met all of our requirements, and hence we decided to develop our own.