Hong Kong Disneyland Resort consists of one theme park and three hotels, the Hong Kong Disneyland Hotel, Disney's Hollywood Hotel and Disney Explorers Lodge. The Resort offers unique and immersive Disney experiences for all guests and families, from the young to the young-at-heart. Since the Grand Opening in September 2005, Hong Kong Disneyland Resort has welcomed millions of Guests from around the world, making it one of the top destinations in the region.
Hong Kong Disneyland is now made up of seven themed lands. In addition to the Main Street, U.S.A., Adventureland, Tomorrowland and Fantasyland, three new themed areas, Toy Story Land, Grizzly Gulch and Mystic Point were opened in 2011, 2012 and 2013 respectively, bringing the total number of attractions and entertainment experiences to more than 100.
More! All-new attractions and entertainment offerings!
We are presenting our most spectacular live show ever! The brand new Broadway-style musical - "Mickey and the Wondrous Book", all-new attraction Fairy Tale Forest - Presented by PANDORA – brought to life the five classic Disney princess fairy tale scenes!
"Mickey and the Wondrous Book"
A Brand New Stage Performance of New and Classic Disney Stories
The much-awaited "Mickey and the Wondrous Book" live musical show is a convergence of artistries and technologies in the largest-ever production scale to celebrate seven beloved Disney stories, with Mickey Mouse and Goofy leading guests through the magical journey on a new level.
The 28-minute new stage show opening at Disney's Storybook Theater begins with Mickey Mouse and Goofy discovering that a wondrous book exists in a library.

"Fairy Tale Forest – Presented by PANDORA
A New Garden Realm of Classic Disney Fairytales
Enjoy meandering through this enchanted, living forest, where you will discover miniature iconic scenes from five of your most cherished Disney Princess stories. Guests can activate some of the music box scenes and see them come to life with well-known music and captivating animation.
Disney's most famous and magical fairy, Tinker Bell, lives in Pixie Hollow here, awaiting to meet you and sprinkle some pixie dust.

Toy Story Land - Pioneer in Asia
It is pioneer in Asia and is fully immersive land where guests feel like they have shrunk down to the size of their favorite Toy Story toys. Just like the popular Disney‧Pixar motion picture series, the attractions and entertainment events in Toy Story Land celebrate the fun of Play Time.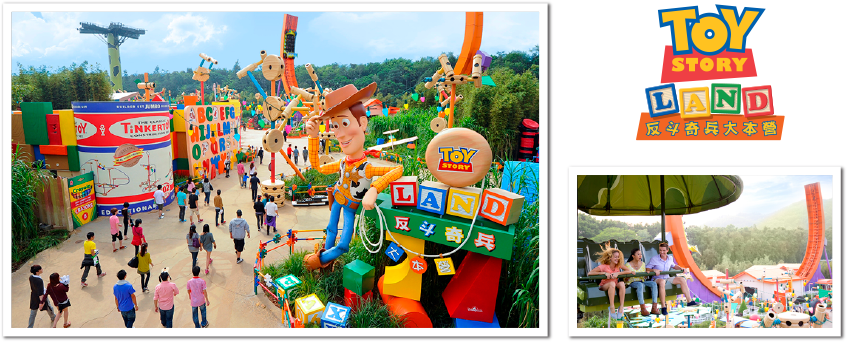 Grizzly Gulch - First-of-its-kind
The largest themed area in its expansion plan; based on an original story created solely for Hong Kong Disneyland, Grizzly Gulch will provide Guests with an unexpected runaway adventure. The unique multidirectional terrain-style coaster Big Grizzly Mountain Runaway Mine Cars takes Guests on a holistic adventure as it crisscrosses the entire themed area.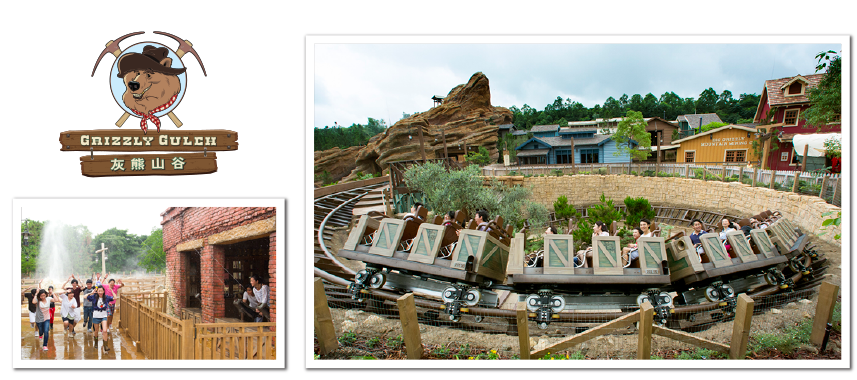 Mystic Point - First-of-its-kind
It's a first-of-its-kind and is the final chapter of the Hong Kong Disneyland's expansion in 2013. The story of Mystic Point follows the adventures of eccentric explorer and art collector Lord Henry Mystic, who invites guests to board the Mystic Magneto-Electric Carriage for a tour of his private museum located within his Victorian manor. Mystic Manor has been honored with the coveted Thea Award of Outstanding Achievement- Attraction, by the Themed Entertainment Association.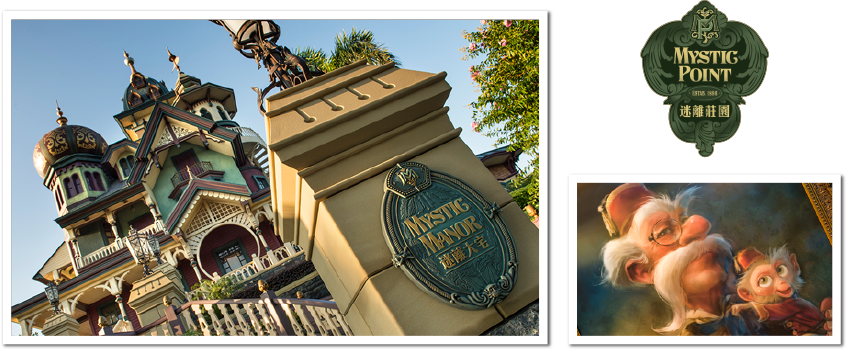 "Disney Paint the Night" Parade - First-of-its-kind
"The 'Disney Paint the Night' Parade was developed as a first-of-its-kind, world class attraction for Hong Kong Disneyland, bringing an extraordinary audiovisual entertainment experience to our guests in park every night. Over 25 different styles of lighting effects, created by more than 740,000 LED lights, it is the first-ever fully LED and technologically-advanced parade to dazzle our Guests with a totally new nighttime spectacular experience. "Disney Paint the Night" Parade was honored with two prestigious international industry awards, namely the Thea Award for Outstanding Achievement – Parade Spectacular from the Themed Entertainment Association (TEA) and the 2015 Brass Ring Award for Best Multimedia Spectacular from the International Association of Amusement Parks and Attractions (IAAPA).

Experience Hong Kong Disneyland in a Cosmopolitan Way!
Hong Kong is renowned for its East meets West culture and this is reflected in the seasonal events, merchandise and choice of menus at Hong Kong Disneyland.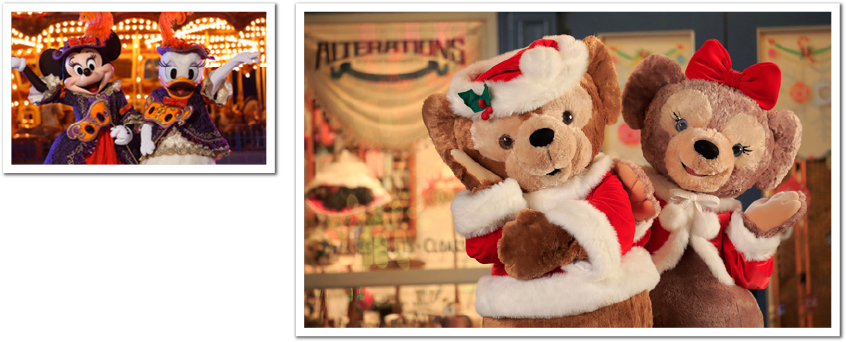 Whatever the celebration – Lunar New Year or a thrilling Halloween – Hong Kong Disneyland Resort presents an exciting and diverse selection of rides, attractions and entertainment throughout the year to make special occasions all the more memorable.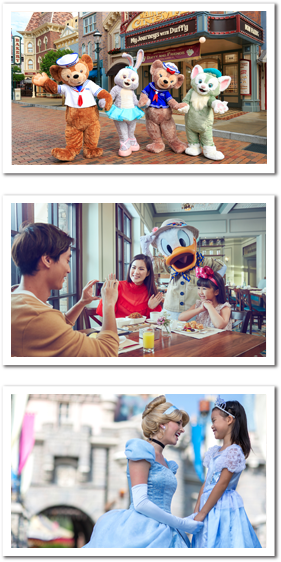 Shopping in Hong Kong Disneyland is a pleasant part of the Disney experiences. Surprises abound with hundreds of new gift ideas exclusive to Hong Kong Disneyland every season. You can choose from a range of holiday collectibles from apparel and toys to beautiful souvenirs and memorabilia. Each and every piece is equally irresistible and carefully crafted with heart! There are delicious food options at every turn, as well as cosmopolitan selections of Chinese and Western, you can also find some Hong Kong signature delicacies, such as dim sum, fish balls, soya chicken legs and egg custard tarts. The eateries in Hong Kong Disneyland are offering delicacies to tempt your taste buds! Hong Kong Disneyland respects guests of every origin and religion. Discover the heartfelt services available especially for Muslim guests in dining, entertainment experiences and more! Enjoy a fun and hassle-free visit to Hong Kong Disneyland!
Do save your time to enjoy shopping and dining in a cosmopolitan way at Hong Kong Disneyland!