Following rumors of a new command post, First Order Stormtroopers have been seen on what appears to be their reconnaissance patrol, as part of their plan to wipe out all traces of the Resistance. This summer, a galaxy far, far away is closer than ever before. Come to Hong Kong Disneyland and experience "Star Wars: Tomorrowland Takeover".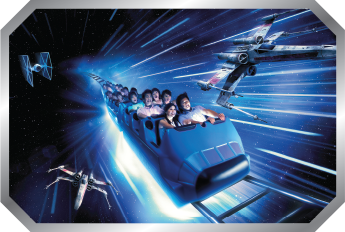 Hyperspace Mountain
The thrills become even more intense when you rocket into the middle of a Star Wars galaxy in this reimagining of the classic Space Mountain attraction! Dodge blaster fire as you dash through a raging dogfight between Rebel X-wing Starfighters and Imperial TIE fighters.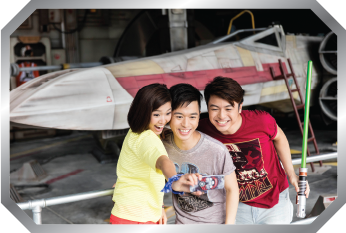 X-Wing Fighter
As enter Hyperspace Mountain, you will walk past a gigantic life-size X-wing fighters, flight suits and pilot helmets on the way to try your skill as a rebel pilot.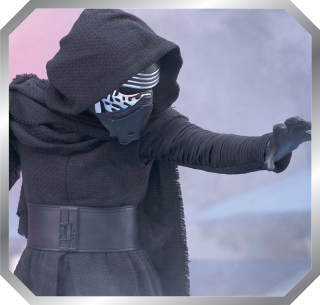 Jedi Training:
Trials of the Temple
The stirring Star Wars fanfare beckons a group of eager younglings in brown robes onto the stage. Under the tutelage of a Jedi, recruits learn how to use the Force – and their wit – to wield lightsabers. The novice Knights are challenged to use their new skills when they come face-to-face with Darth Vader. Yet another dark, Kylo Ren, poses an even greater threat to the younglings. Will any of the new recruits be brave enough to face this menacingly vengeful opponent?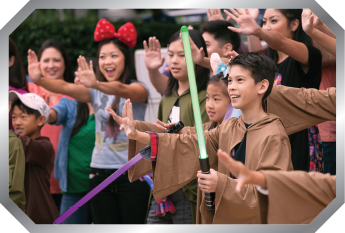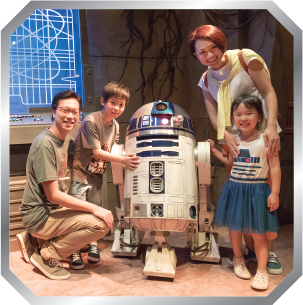 Star Wars: Command Post
Journey to a hidden Resistance base where you may encounter some of the greatest heroes of the Star Wars saga. Come face to face with the Wookie warrior Chewbacca and the resourceful astromech droid, R2-D2.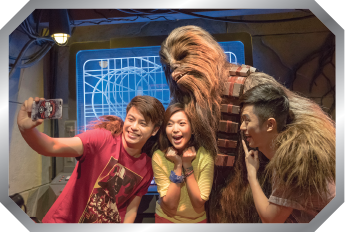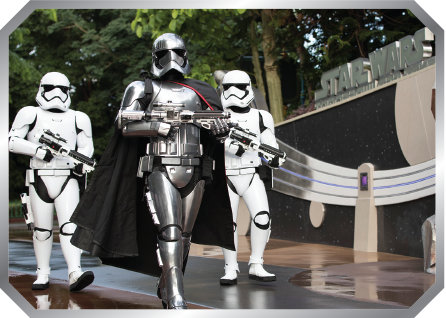 FIRST ORDER
ON PATROL
Captain Phasma leads a team of her Stormtroopers on reconnaissance patrol in Tomorrowland looking for any signs of the Resistance.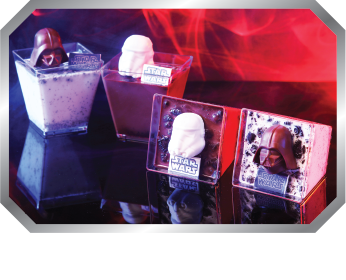 Food to fuel
the Hero within you
Whether you are an aspiring Rebel or have a tendency towards the Dark Side, we have a galaxy full of food to suit every type of Star Wars fans. Feed a hero's hunger with the all-new Star Wars Lightsaber Churro, Darth Vader Burger Combo and a fleet of desserts to battle your villainous sweet tooth.
If you prefer to dine at one of our hotel restaurants, then we suggest you try our Star Wars Baked Yunnan Ham, Assorted Nut Puffs or even our Star Wars Sandwich Combo.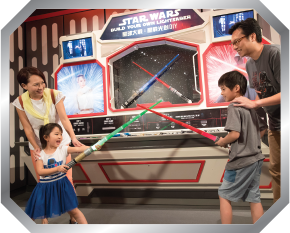 Space Trader & Star Wars collectibles
Now you can choose the light or the dark side and create your own lightsaber to become a Jedi or Sith warrior. Don't miss this galactic opportunity to make your own lightsaber. We also have a hero collection of other Star Wars products including the all new Star Wars Tsum Tsum's range, Starfighters as well as your favorite droids – BB-8 and R2-D2.